Collect your Wisdoms in your own one-of-a-kind Wisdom book!
Growing in Wisdom is the heart of being a fairy godmother in-the-making. Everything you do—both at the Fairy Godmother Academy and in your daily life—can bring you Wisdom if you're really looking. As you find these treasures, honor them and keep them safe in your own beautiful handmade book. Here's how:
Step 1. Choose a small blank book to decorate.
The perfect little book could be out there waiting for you—look around! 5 inches x 7 inches or smaller works well for Wisdoms. If you find a great book, skip down to Step 2.
Or…make your own book!
If you'd rather make your own Wisdom book, try this:
Materials:
A stack of printer paper or sketchbook paper (try several colors!)
2 pieces of cardboard, mat board, foam core, paper bags or heavy art paper
Optional: 2 large sheets of pretty art paper
Scissors
Pencil
Ruler
Glue stick
Hole punch
3 lengths of yarn, twine, leather cord or ribbon
Make pages.
Find some pretty paper (bonus points for recycled paper!) and decide on a size. One easy way to make pages is to fold printer-size paper into quarters and then cut along the folds. Important: you'll need an inch on the left side to bind your book. Remember that you won't be able to write or draw in this space.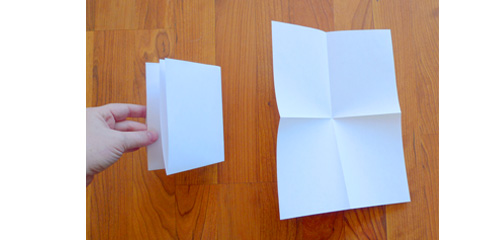 Fold and cut at least 5 pages and stack them all together. Try mixing different colors of paper, too!
Mark 3 dots along one the left side of the top page:
¼ inch over and down from the top of the page
¼ inch in from the center (fold a test page in half to find the center)
¼ inch over and up from the bottom of the page
If your book is really small, it's OK to just mark 2 holes.
Use a hole punch to make holes in the top page, and then use it as a guide for making holes in the rest of your pages.

Create a cover.
Paperback style: Use sturdy paper that's still a little bendy. Try file folders, heavy watercolor paper or paper bags. Cut out 2 covers that are the same size as your inside pages.
Hardback style: This cover has a bend along the bound side that makes it easy to open your book flat. You can use heavier paper like cardboard, mat board or foam core board. Cut out 2 pieces the same size as your inside pages. Then cut a 1" strip lengthwise (vertically) from each cover. For each cover, glue the 2 pieces about ¼ inch apart onto a big piece of pretty paper or fabric that is 2 or 3 inches wider all around than the cover piece. Once the glue dries, wrap the covers with the paper/fabric just like you would wrap a present and glue it down. Then glue a different color page on the inside of each cover.

Bind your book.
Place the inside pages on the cover so it lines up the way you'd like. Use the inside pages as a guide to mark where the matching holes should be on each cover. Use a hole punch to cut out the cover holes on both covers. Put the covers on the outside of your pages, line everything up, and fasten with a binder clip. Tie your book together using yarn, twine, leather cord or fabric strips. Place a dot of glue on each knot to help it stay tied.

Step 2. Design your cover
Draw, paint, or collage a beautiful cover. Don't forget the back of the book and even the inside pages. Use these suggestions or find your own cool supplies.
Photos
Magazine pictures
A special postcard
Birdie or Kerka's Wisdom Card
Art paper, fabric or felt
Leaves or flowers to trace
Pens, pencils, paint or markers
Glitter, stickers or stamps
Glue (a glue stick works well)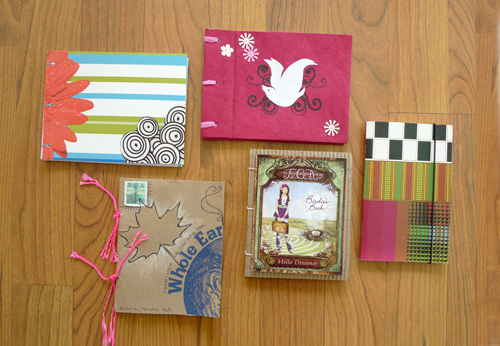 Step 3. Add your first Wisdom!
Wisdoms guide our hearts and blossom as we grow.
You could write this Wisdom on your first page, or come up with your own – maybe it's from a Wisdom card you like, or something meaningful you've learned from a friend or family member. Best of all, maybe this is the place where you start finding your own internal Wisdom—whether it comes to you as words, drawings, or even music.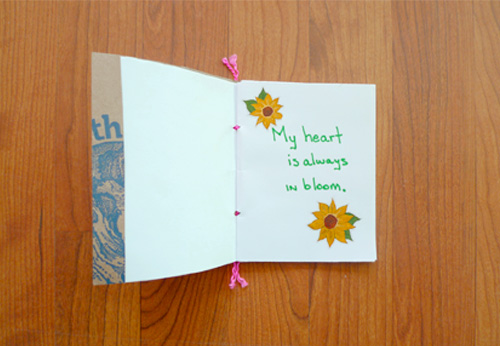 Once you're book is finished, tell Birdie about it and send her a picture!
send Birdie a message | learn more about Wisdom | see more Wisdom Cards